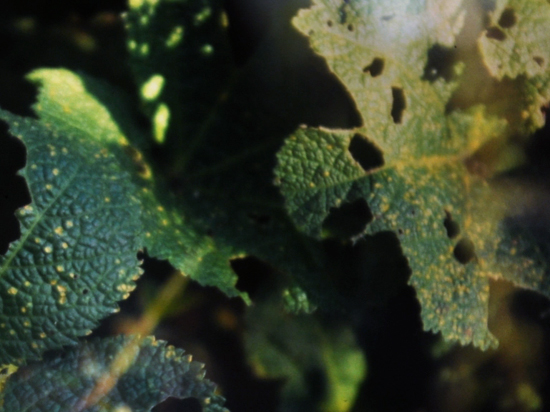 "During the re-capture process my tripod is positioned as close to the slide projectors as possible and I am behind the apparatus, using a remote control to trigger the shutter. I look for interesting overlays, I use my hands to obstruct or reveal portions of each image and I move towards the projection to see how the light merges with the paint on the wall, but I am distanced from the moment of capture and I don't really discover what the camera has recorded (the level of detail, the textures, the patterns) until I take the photographs into the computer and enlarge them. A yo-yoing of relations: I look closely to take the initial photo, then I step back – the projector and camera stand between me and the image and the process is opened up – then I come back in and look closer again, carefully selecting parts of this new, mechanically constructed image."
GARDEN
Single-channel video, sound by
Tom Simmons
, 03:48
An experimental video produced during an artist's residency at Culpeper Community Garden in London. Pairs of 35mm slides are overlaid and re-photographed to create double exposure effects. These photos are then sequenced to create illusions of movement. The images describe an individual (private) experience of the social (shared) space of an urban garden. The audio is fabricated from soundfield recordings captured over the course of 48 hours in the garden and neighbouring locations. Guided by duration, flicker and time passing in the image, the interleaved sounds reflect the process of double exposure and compose distances between the photographer's lens and the bustling city around.
"... But ultimately these works do more than explore images of the natural world; these works revolve around the central concern of an exploration of the 'perceptual moment' and its relation to the moment or act of consciousness"
www.a-n.co.uk/link/mnettell